LIBRI: "Leoni fuori gabbia" euro 22,00,"This is Ulster" euro 23,00, "The Final" euro 15,00, Lads 2009 euro 25,00 e "Lads 2011″ euro 25,00. MODALITA' DI PAGAMENTO: bonifico a favore di Luca Tomaselli IBAN: IT31 R0306901  0061 0000 0090 634 bic: BCI TI TMM, poste pay numero 4023600577836960 Luca Tomaselli oppure PayPal all' indirizzo: idlcasualsutd@interfree.it  CONTRIBUTO FISSO SPESE POSTALI: Euro 10,00 complessivi per spezioni tracciabili ed euro 5,00 per spedizioni non tracciabili indipendentemente dal numero dei titoli acquistati fino a cinque.Tutti i volumi sono anche disponibili per l'acquisto dal sito www.lulu.com con varie modalità di spedizione a costi differenti.Per i dettagli sui singoli  libri guarda in calce.Ora è disponibile anche "Ultimi romantici-La rinascita dei Glasgow Rangers" ( euro 18,00). Per vedere l'anteprima ed acquistare il libro cliccare il collegamento diretto su questa pagina in alto a sinistra o accedi a www.lulu.com . Finalmente, sempre su www.lulu.com è disponibile "Ottantesimo minuto", storie di ultras, culture giovanili ed attivismo politico negli anni Ottanta.  Assicuratene una copia!
indirizzo per l' acquisto: http://www.lulu.com/shop/luca-tomaselli/ottantesimo-minuto/paperback/product-21359487.html
Il Manchester City ha rifilato ben sei reti al' Arsenal disputando una gara esemplare sul proprio terreno dove i Citizens" sono imbattibili o quasi. Momento di forma non eccelsa per i biancorossi, invece, che già erano usciti sconfitti in "Champions League" dal San Paolo di Napoli. Al pari di Chelsea e Man Utd anche i "Goonners" hanno raggiunto gli ottavi di finale. Per il Man City la sola nota stonata consiste nell'infortunio ad Aguero che resterà fuori circa due mesi. Male il Chelsea che perde in Coppa di Lega contro il Sunderland, uscendo dalla manifestazione. I Celtic, in Scozia, hanno diffidato 128 tifosi dal proprio stadio e sciolto la controversa "Green Brigade" che si era distinta in cori e coreografie a favore dei terroristi dell' "IRA" ed in vandalismo allo stadio del Motherwall. I fans del settore non diffidati sono stati ridistribuiti in diversi settori dell'impianto, utilizzando i molti posti invenduti. I Rangers, intanto, continuano la loro marcia a punteggio pieno, fermata solo dal vento nell'ultimo turno. La gara fuori casa con lo Stenhousemuir non si è disputata a causa delle folate di aria  che hanno rovesciato, prima del fischio di inizio, un van della ristorazione e piegato una delle colonne di metallo che reggevano la tettoia del piccolo impianto.
Sergio Aguero: Manchester City striker out for up to eight weeks
Manchester City striker Sergio Aguero could be out of action for up to eight weeks, says manager Manuel Pellegrini.
The Argentine, City's leading scorer this season with 19 goals, injured his calf during Saturday's 6-3 victory over Premier League leaders Arsenal.
It was originally thought he would be out for a month but Pellegrini revealed the latest prognosis after the 3-1 Capital One Cup win over Leicester.
"The doctor has said he has at least one month or eight weeks," he said.
Aguero, who has scored 13 times in the league, netted the opener against the Gunners before limping off at the start of the second half.
"I don't know how many weeks but it will be at least one month," added Pellegrini. "It is very difficult to know at this moment how many weeks it can be."
City are also waiting for news of defender Pablo Zabaleta, who limped off after just 12 minutes at the King Power Stadium with a hamstring injury, a week after fellow defender Micah Richards suffered the same problem during the 3-2 win over Bayern Munich.
"It's a pity for Pablo because he felt a little problem in his hamstring and we'll see tomorrow how damaging it is," said Pellegrini.
(bbc football )
Sunderland progressed to the semi-final of the Capital One Cup with a thrilling extra-time victory over Chelsea.
Chelsea dominated the majority of the 90 minutes, though their goal was fortuitous, with Lee Cattermole poking the ball into his own goal.
The Blues seemed to be heading to the last four until a late Fabio Borini equaliser took the match to extra time.
From then on the Premier League's bottom club were the better side and Ki Sung-Yueng scored a deserved winner.
With a match against league leaders Arsenal on the horizon, extra time was a scenario Jose Mourinho would have dreaded, but Chelsea only had themselves to blame as they failed to capitalised on their dominance and allowed Sunderland to prolong what had been a turgid match up until Borini's dramatic strike.
The tireless Black Cats frustrated a Chelsea side which was much changed from the one which beat Crystal Palace in the league on Saturday. But whatever personnel the Portuguese chooses, it continues to be the same story for a Blues team which has too often been toothless inside the box this season.
Willian, who had the freedom to float around the pitch, was the away team's most potent player and had the best chance of the first half. Yet the Brazilian failed to capitalise on a Wes Brown error and dragged his effort wide of the far post.
Another Brown mistake, the defender again ceding possession near his own goal, led to another Chelsea chance but this time it was Samuel Eto'o who failed to make the most of his opportunity.
In truth, Mark Schwarzer was underemployed in the Chelsea goal. A penalty appeal for a Cesar Azpilicueta handball was all the sparse 20,000 crowd had to shout about until Borini rewrote the script.
Chelsea had far more zip after the break, with Lee Cattermole's own goal giving the visitors the boost they needed.
Goal decision system technology was used before deciding whether to allow the goal, and replays also showed that Cattermole, rather than Frank Lampard, had the final touch as both players slid goalwards in chase of Azpilicueta's fine cross.
It was Sunderland's sixth own goal of the season, a seemingly ever-increasing statistic which has already left manager Gus Poyet cursing his players' positioning rather than bad luck.
The hosts continued to make life difficult for themselves, with Gardner squandering possession too close to his own goal to give Eto'o the chance to come within a whisker of doubling his side's advantage.
It was all Chelsea – Andre Schurrle and Demba Ba went close to doubling the visitors lead – but the Londoners were not clinical enough in the final third of the pitch and paid the price as Borini forced the match into extra time.
Jozy Altidore's shot ricocheted towards Borini and the Italian finished from an acute angle for his second goal of the season.
Borini had the chance to finish the match in full time but a well-timed Gary Cahill tackle saved Chelsea.
Early on in extra time it was Mannone's turn to keep his side in the contest, with the goalkeeper diving low to save David Luiz's volley, but the momentum was with Sunderland.
Borini scuffed an effort at the far post and a brilliant one-handed save from Mark Schwarzer prevented Ki's diving header from finding the net. But the veteran Australian could do little to prevent the midfielder from scoring for a memorable victory.
(Bbc football )
Celtic Ban 128 Fans And Close Green Brigade Section After Motherwell Incidents
Celtic have announced have temporarily banned 128 supporters from home and away matches, and closed the Green Brigade section of Celtic Park following the incidents which marred Friday's Scottish Premiership match against Motherwell at Fir Park.
The club is "appalled" after supporters ripped out seats and threw flares and smoke bombs onto the pitch during the Bhoys' 5-0 win. A reported £10,000 worth of damage was caused to seats in the lower section of the South Stand housing away fans – just above where a Green Brigade banner was displayed.
Last month, the club was charged by Uefa after the Green Brigade unveiled a banner glorifying Bobby Sands, who led and died in the Irish Republican Army's 1981 hunger strike.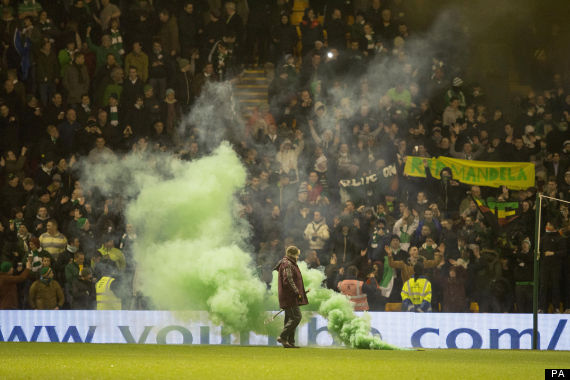 A smoke bomb was thrown onto the Fir Park turf from the Celtic section
A Celtic spokesperson said: "Events such as those on Friday night do not represent the Celtic support or the club. These events were an embarrassment to our great football club and are absolutely indefensible.
"It is clear that there is an element which has no hesitation in bringing Celtic's name into disrepute. This is something the club will not tolerate and we therefore have no other option but to take this action. We will not allow the great name of Celtic to be damaged in this way any more – our supporters deserve more than this.
"While recent events are very regrettable, we would like to thank our many thousands of fans for the wonderful, positive backing which they continue to give to Celtic. We are sure these supporters will understand the position which the club is in and we are also sure they will unite with the club as we move forward
(huffingtonpost )
ACQUISTABILE ESCLUSIVAMENTE SU WWW.LULU.COM (DISPONIBILE ANCHE IN FORMATO E-BOOK )
Storia e contemporaneità della cultura Casual d'Oltre Manica.. Approfondimenti sui fatti dell'ultimo decennio. Immagini e schede delle singole tifoserie di Inghilterra, Scozia e Irlanda del Nord.
ACQUISTABILE ESCLUSIVAMENTE SU WWW.LULU.COM (DISPONIBILE ANCHE IN FORMATO E-BOOK )
Storia e contemporaneità della cultura Casual d'Oltre Manica.. Approfondimenti sui fatti dell'ultimo decennio. Immagini e schede delle singole tifoserie di Inghilterra, Scozia e Irlanda del Nord.
Un noto leader di una Firm, richiesto di commentare i consueti incidenti procurati all'estero dai Lads, dichiarò alla stampa "Margaret Thatcher    ci deve condannare pubblicamente ma dentro di sè sarà sicuramente orgogliosa del lavoro fatto dai ragazzi".. Questo libro si propone come un viaggio attraverso quarant'anni di trasferte oltre Manica dei Casuals britannici al seguito delle selezioni nazionali e delle squadre di club. La narrazione delle principali trasferte può facilmente diventare il paradigma per descrivere centinaia di giornate nelle quali le firms hanno esportato all'estero il loro bagaglio di fedeltà, nazionalismo, alcoolismo e, spesso, anche violenza. Il volume si propone come naturale seguito di "Lads 2009″, dello stesso autore, che illustra la scena attuale dei mobs britannici tra le mura domestiche. Sangue, birra e Red Hand gli ingredienti ricorrenti di un cocktail spesso esplosivo
THE FINAL, VIAGGIO AL TERMINE DEL MONDO ULTRAS"
pag.180  Euro 15,00 (posta prioritaria 4,00;raccomandata 5,35)ACQUISTABILE SCRIVENDO A: italianlads@gmail.com

Pagine 358, Copertina morbida
acquistabile esclusivamente dal sito www.lulu.com  ( anche in formato e-book)
Questo blog non rappresenta una testata giornalistica in quanto viene aggiornato senza alcuna periodicità. Non può pertanto considerarsi un prodotto editoriale ai sensi della legge n. 62 del 07.03.2001.Alcune delle foto presenti su questo blog sono state reperite in internet: chi ritenesse danneggiati i suoi diritti d'autore può contattarci per chiederne la rimozione
Il Man City perde Aguero per due mesi ma fa 6 goals all' Arsenal. Il Sunderland elimina il Chelsea in Coppa di Lega. Celtic: il club scioglie la Green Brigade. Finalmente disponibile "Ottantesimo minuto" !
ultima modifica:
2013-12-18T00:35:28+01:00
da
Reposta per primo quest'articolo